Board Member Molette...
---
Lee O. Molette, II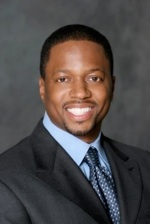 Lee O. Molette, II was born in Detroit, Michigan in 1968. He graduated from Cass Technical High School in 1986 with a curriculum concentration in Marketing and Distributive Education. In 1991, he graduated from North Carolina Central University in Durham with a degree in Business Administration with a concentration in Marketing.
While attending college, Lee worked up to three jobs at a time in order to finance his education. However, during his freshman year of college he signed up to sell books with the Southwestern Company of Nashville, TN. This would prove to be his summer job throughout his college days. In addition, he would work at UPS, Kmart, and other jobs during the school year. These experiences helped shape and prove his drive to accomplish his goals with a no excuses mentality. After graduating, he worked with Southwestern Company in their management program for two more years. While at the company Lee earned numerous awards including recruiting and management awards, the Wall of Greats, Bachelor's and Masters of Sales Management, and President's Club. He also won various sales and performance awards.
After leaving Southwestern at the end of 1993, Lee accepted a position with Edward Jones Investment Company out of St. Louis as an Investment Representative. He then opened one of the first offices for Edward Jones within the city limits of Nashville. As Investment Rep, he distinguished himself by opening many new accounts and educating many people across the city and the country on investing. This not only helped him build his business, but also helped hundreds of first time investors get started with building portfolios.
Just as Lee's investment business was really picking up pace, Lee's desire for true self-employment manifested and the opportunity came quickly. He and eight others decided to start a new company in the winter of 1994 and named the new company Innovative Recovery Services, Inc. (IRSI). The Company formally started operations in August of 1995 providing health care subrogation services to health insurance companies. Lee was the first to resign and start full-time with the company in August. Along with this move Lee founded Molette Investment Services Group in November of the same year. The company added Internal Audit Services in September and wound up with only four partners in October, with the others deciding to stay with their secure positions. The four that stayed quit their good paying careers in search of business success. Over the next seven years Lee would serve as CFO and VP of Sales. IRSI grew into a multi-million dollar company over that time.
In May of 2002, the partners of IRSI decided to go their go separate ways. Lee launched his new company The Molette Group at this time. The company provides services in securities investing and education, real estate investing, and business consulting. The company has numerous clients in the consulting area, owns and manages a multi-million dollar portfolio of commercial and residential investment properties, and because he continued his securities business he has built a multi-million dollar investment portfolio and hundreds of corporate and individual clients. In addition, his company provides benefit plans to some of the areas fastest growing companies. Finally, Lee co-owns the Franklin Tennessee Edible Arrangements franchise store.
Lee's successful track record as an investment advisor, consultant, and businessman has put him on the radar of many seeking expert advice in many areas from investments to community development. Thus he has had the good fortune to speak at local, national, and international companies and organizations such as Nashville's General Hospital, Deloitte Services LLP, RH Boyd Publishing Company, National Baptist Congress, and Hospital Corporation of America (HCA). In addition, he has lectured at universities such as Vanderbilt University, Howard University, Oklahoma State University, North Carolina Central and North Carolina A & T Universities respectively. Lastly, Mr. Molette has been seen on Nashville's CBS affiliates top rated shows "Talk of the Town" and "Urban Outlook" as well as their various morning, noon, and evening news broadcasts as their financial and economic expert, and several of Jones Media's National broadcasts for Lifetime Radio Network. His current most requested topics are on "Surviving the Bear Market", "Investing in Alternative and Non-Correlating Assets', and the "Straight Talk on Variable Annuities."
While Lee has a successful track record as a businessman he transcends the lines with his numerous outside activities including Omega Psi Phi Fraternity, Inc., Deacon -- Mount Zion Baptist Church, Overseer of Men's Ministry, Co-Chair of two Mount Zion building programs totaling over $26 million, Board Member -- Downtown YMCA, Treasurer --Family and Children's Service, 2004 Leadership Nashville & past Treasurer, past Treasurer Downtown Rotary Club, Chair -- United Way RH Boyd Leadership Society, 2004 to present 100 Black Men Member & Board of Directors, Nashville Chamber of Commerce Board of Governors, Treasurer -- Mathew Walker Health Center, and Chair- Elect Nashville Business Incubation Center along with others. Lee has served in a leadership capacity for most of these organizations. Molette has spoken to school age students all over Metro Nashville and many other venues across the country. He has run 3 marathons and 3 half marathons, enjoys weight training, golf, football, and public speaking and teaching.
Lee has also won several awards including the Omega Psi Phi citizen of the Year, Mount Zion Baptist Church Businessman of the Year, Pentecostal Tabernacle award for commitment to the communities' financial literacy, CES & Associates business of the year, Med Week's RH Boyd award recipient for business of the year, and others.
While you can see Lee has been busy the years he's been in Nashville his four proudest moments are in reverse order: having the opportunity to speak to students of all ages, races, and religions across the country and US territories on topics ranging from life skills to investing to religion; seeing the completion of Mount Zion's $17 million 100,000 square foot facility; the birth of his son Lee III in November 2003, and marrying the former Dr. Kelli A. Turner on October 22, 1994.